Attacks on refugee homes double in Austria as accommodation firebombed and sprayed with Nazi graffiti
Attacks on refugee accommodation have doubled in Austria, seeing homes firebombed, vandals spray Nazi graffiti on walls and a man threaten to "get a gun and shoot the dogs".
The interior ministry revealed the figures at the request of an MP, who said the vast majority of cases were motivated by hatred and called for more to be done to catch the culprits.
Albert Steinhauser, an opposition Green party politician, said he was dismayed to find out that more than three quarters of the 49 recorded cases remain unsolved.
"The most important thing is for the interior ministry to take these incidents seriously and make every necessary effort to investigate," he told the Austria Press Agency.
Among the incidents was a firebombing that saw two Molotov cocktails launched at a refugee home in Himberg, Lower Austria, in November.
It was one of several reported arsons, including a fire in Rohrbach, Upper Austria, in June, which damaged one accommodation centre so badly it had to be evacuated and rebuilt.
Police said refugees were put at severe risk in August when assailants broke into a storage unit and cut a gas supply hose "to cause a leak" that went unnoticed for more than a week.
Authorities said the motivations of the perpetrators were unknown, but they could have caused poisoning or a gas explosion.
In May, a man approached a centre in the Alpine town of Imst and shouted threats at asylum seekers, saying he would "get a gun and shoot the dogs". He was later arrested.
The following month, a man falsely posing as a police officer entered a home in Fulpmes armed with a baton to carry out a supposed "inspection".
Other attacks involved fireworks, paintball guns and homemade Molotov cocktails, while others saw stones and other projectiles launched at windows.
Most incidents involved vandalism, including the smashing of windows and spraying of racist and Nazi graffiti, including swastikas, the phrase "Heil Hitler" and SS runes.
Activists believe many more incidents may have occurred in 2016 than the 49 officially recorded, compared to 25 in 2015.
The interior ministry also listed numerous attacks and threats by asylum seekers, including carers being threatened with "decapitation" gestures in Linz, where another refugee told his supervisor "I will kill you all".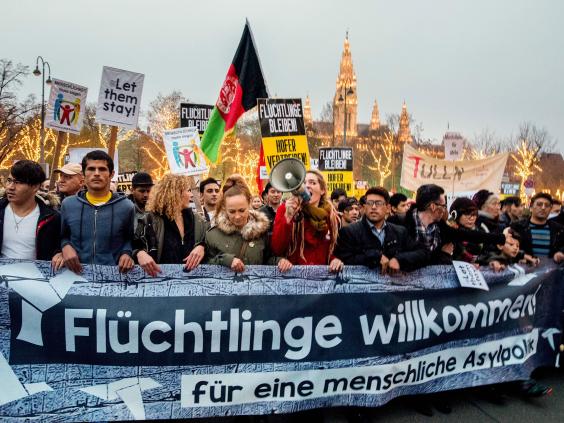 At least two sexual assaults were recorded. In one attack in Bad Hall in June, a female supervisor was threatened with a smashed glass, pinned to a wall by the neck and assaulted until she managed to flee.
A female worker was repeatedly assaulted by a migrant in Poysdorf, attempting to kiss her, grabbing her breasts and leaving her with a bleeding lip on one occasion.
A female social worker was forcibly held in her office and prevented from making phone calls by three Afghan asylum seekers in Görtschach, who told police they terrorised her for five hours "because she was a woman and a 'bitch'".
"We have to look closely at what the causes are. We strongly suspect that trauma, experiences of war and extreme violence play a role," Mr Steinhauser said, calling for better psychiatric care.
In all but two of 49 violent incidents or threats against workers recorded at refugee homes the perpetrators were caught, the interior ministry said.
More than 130,000 people have applied for asylum in Austria since the start of the refugee crisis, with the country sitting on the route from the Greek islands into western Europe.
In neighbouring Germany, more than 900 attacks on refugee homes were recorded in 2016, with the arrival of more than one million asylum seekers driving a spike in political violence and hate speech.